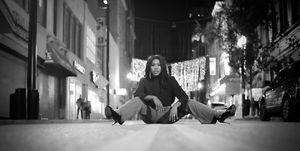 Singer-Songwriter, Larysa Jaye, brings a twist to the Acoustic Soul Music scene. Bridging soul, Americana, hints of R&B and rock, plus whatever else may be tickling her fancy in the moment.

Larysa has an exceptional ability to captivate her audience. Taking you on a journey through song, sharing stories about her everyday life. The vulnerability,  the opportunity to share story, and her powerhouse vocals have carved out a unique niche as an artist.
Hailing from Kansas City, KS, Larysa Jaye has made a home in Nashville, TN. Being surrounded by a thriving music scene, her love for the industry emerged. Larysa began her journey taking her guitar to open mic nights throughout the city each week. Doing all that she could to get her voice heard. Early on she was compared to singer/songwriters like Chris Stapleton, Tracy Chapman, Jazmine Sullivan and even remnants of Sade. These artists and countless others continue to inspire her journey forward.  
Larysa has created a space for herself in the heart of Music City. Performing for her largest crowd yet of over 30,000 people, she had the privilege of opening for Nashville's Major League Soccer team game. Her single, "Birmingham", has earned her many listening ears across the country. Performing it in honor of MLK Jr Day, Larysa was awarded The Key to the City of Sikeston, MO for her community involvement.
Her ability to cross over various genres has earned her opportunities to grace stages ranging from the Nashville Soul Music Festival to a weekly residency at Justin Timberlake's Broadway bar, 12|30 Club to the Nashville staple, Pucketts Restaurant. The National Museum of African American Music's Emerging Artist program added Larysa to their list of talent. You'll often find Larysa at the International Nashville Airport as well as other various corporate and public stages throughout the US. She's also lent her voice to internationally known artists such as Lauren Daigle, Danny Gokey, and Carrie Underwood, and even collaborated with Christian Artist and DC Talk Alum Kevin Max. 
Larysa Is currently working on a new project with, the legendary, Tommy Sims and David Mullen. A 2023 release is in the works.

Mama to 4 - Kadyn (16), Kingston & Shakira (twins - 12) and Sydney (5), her family is everything! Her bubbly, fun loving, and witty personality radiates both on and off the stage. She is quickly becoming a much sought after entertainer and has no plans of slowing down.